Performances & services
- more about us klick the photo pdf.-file 314 kB.
The DAS - IB GmbH considers itself a competent, service- and attendance orientated bureau in the field of biogas -, sludge gas - and landfill gas (LFG) - technology.
We also adjust Windturbines as an agent at your site including economy calculations.
Utilising the latest office and communications technology enables us to process projects in a way that is trustworthy, innovative and rich in ideas. Our clients consist of private and municipal clients in the field of biogas -, sludge gas - and landfill gas - technology. We pride ourselves in a close cooperation and an understanding relationship with our clients. Furthermore we incorporate 15 years experience in plant construction in the field of biogas -, sludge gas - and landfill gas - technology.
Long - standing experience in various specialist fields, including project management enables us to be goal-oriented and process projects within a tight time schedule. Our engagement, qualifications, experience and attention to detail guarantee our clients the highest standards and level of performance.
Flyer about Explosion protection document / Normal operation etc. regarding EU 99 / 92 regulations for operatots - 999 kB -klick at the photo for download
service:
on hire: own flare and booster station
klick and you got a bigger one 688 kB download
Don`t dream it - flare it ! With the flare of DAS - IB ... 10 minutes on side and we are ready - to flare >
Plug & Fire / Mobile Gasflare DMF 1 MW th, 12.II.2008 start up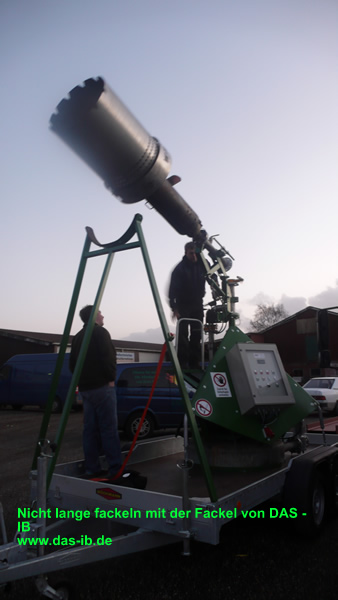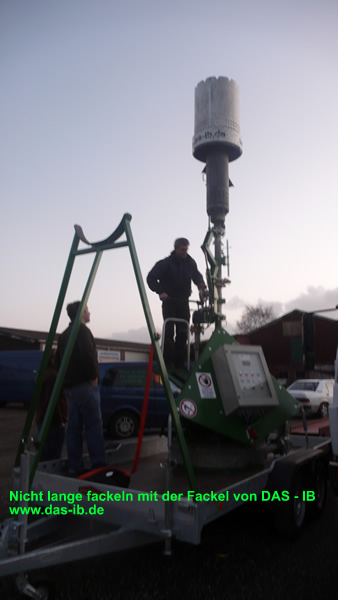 Our rental mobile flare ( 1 MWth to 1.8 MWth) fleet plus equipment - klick the picture 334 kB
Field of activities:
We take on the following tasks for you and we execute for our clients:
Biogas -, Sludge Gas - and Landfill Gas (LFG) Technology
Consultation, planning & design, project management, development and construction of biogas, sewage gas and landfill gas systems

Expert in ATEX - Zoning according to 99/92/EU for the plants and 94/9/EU for the products; Creation of the explosion protection document, required according to 99/92/EU "ATEX"

Familiarisation and training of system operatives. Schooling of the operating personnel with regard to the handling of biogas, sewage gas and landfill gas technology in accordance with the relevant directives and accident prevention regulations.
Customer-specific schooling including the optimization of operational procedures (costs and technology).


Independent Expert & Specialist. Expert services with regard to biogas, sewage gas and landfill gas (LFG) systems.


Greenhouse gas (GHG) emission trading, CO2 (carbon) trading certificates for landfill gas (LFG) / Emission trade is not a closed book:
Trade with CO2 certificates (emission certificates) in accordance with the TEHG (German law on greenhouse gas emission trade) and the EU directive dated October 25th 2003 (Kyoto protocol) regarding landfill gas / biogas: Project development (rough draft), project planning, assistance and approval / certification, monitoring / monitoring base line study (Project Design Document / PDD) / Project Idea Note (PIN)), technical, ecological and feasibility studies and solutions, determination of emission reductions, profitability analyses, applications (workout), workout of validation and certification documents, workout of the monitoring plan


Assistance (i.a.) in the post-closure care of your landfill in accordance with the landfill ordinance, in particular:
Consideration of the CH4 potential of the landfill, compared with the CO2 potential
of newly constructed plants with regard to production and operation


Procurement of wind and solar energy systems for your site including site inspection and feasibility calculations.





Szolgáltatások magyar nyelv (654 kB)

With a little help "Normal operation" for your Explosion protection document / Risk assesment as Poster pdf - file (941 kB)

We are member of:

German Biogas Association / Asociacion Alemana de Biogaz / Societe Allemande du Biogaz

Chamber of Commerce Kiel, Germany



Site and customer-related gas analyses: - > Offer as pdf-file 114 KB
Please note:
USt-IdNr.: DE218812158
Please note:
We have received the certificate of exemption allowing tax deduction for construction works according to § 48 b clause 1 principle 1 of the internal revenue code dated 11.02.02 of the Kiel-Nord internal revenue service / no. 08600163.
updated 11.02.2005